What are the advantages and disadvantages of the Stone Effect Spray Paint
Composition of real stone lacquer coating: The real stone lacquer coating consists of a primer layer, a genuine stone lacquer layer and a finish lacquer layer. Primer layer to be used with alkali-resistant primer to isolate and prevent the infiltration of moisture from the grassroots concrete coating, to strengthen the adhesion of the coating and the base surface, to avoid peeling off the coating; Stone Effect Paint Exterior is the surface to form a variety of patterns and Three-dimensional sense of the main material, play a variety of protective effect. The overcoat is a decorative protective layer, that is, it can enhance the waterproof function of the Exterior Stone Texture Paint, improve the weatherability and stain resistance of the coating layer, enhance the hardness of the coating film, and make the surface of the coating more glossy and easy to clean. Advantages: The Stone Effect Paint is made of natural materials, with good weather, color retention, mildew anti-dry, non-aging, increase the life of the building and other characteristics of a thick paste type construction up to 2-3mm film thickness. And the real stone paint has a slight extension of effective coverage of subtle cracks, more cracking, sound absorption, good flexibility, anti-collision and other advantages. Moreover, the real Shiqi expressive, three-dimensional sense of strong plasticity, the hardness can be comparable with the granite, warranty up to 15 years. Disadvantages: construction is more complex, more difficult to grasp, prone to appear, if the construction is not uniform, likely to cause whitish, flowers exist.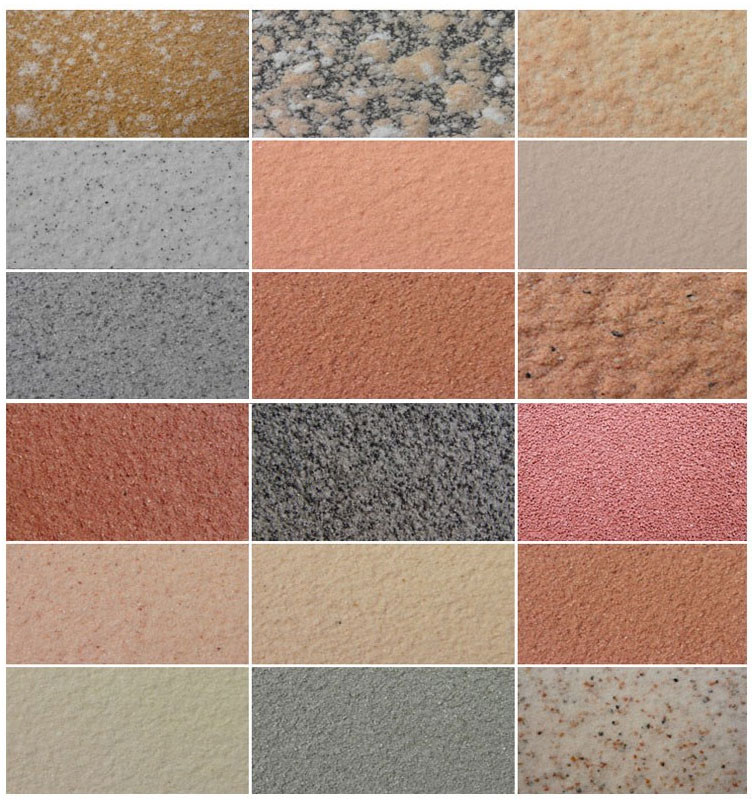 Special Effect Stone Wall Paint is also commonly known as liquid stone, its main advantages are:
With natural and natural color, gives the elegant, harmonious, dignified beauty.
1, lasting color: excellent alkali resistance, UV resistance, color stability, no need to worry about fade color.
2, a wide range of applications: a variety of surfaces have excellent adhesion, the scope of application is very wide.
3, waterproof breathable: a good waterproof, breathable, anti-mildew performance.
4, environmental safety: non-VOC (volatile organic compounds), non-toxic environmental protection, the human body on the environment without pollution.
5, Weatherability: able to withstand the extreme weather conditions in northern and southern regions, quality and stability guaranteed
6, long durability: anti-aging, anti-cracking, quality of life in more than 10 years.
7, simple and arbitrary: can be cylindrical, arc, all kinds of special-shaped, special spray on the special shape, easily solve the traditional rigid veneer can not be any construction problems veneer.
Hard to say the shortcoming is that real Stone Texture Paint must be accompanied by strict construction technology, paint, although the quality is better, but if the construction staff lack of experience, low level of technology, different real stone paint do not understand or understand the performance is not comprehensive enough, can also cause a variety of problem.