Polyurea Waterproof Coating is a kind of A, B two-component, solvent-free, fast-curing green and environmentally friendly elastic waterproof material. Polyurea Coating has excellent physical and mechanical properties, UV aging resistance, abrasion resistance, chemical resistance, high elasticity, high strength, waterproof life of more than 50 years, excellent bonding performance, excellent self-healing ability, excellent corrosion resistance .
Widely used in the following fields
1. Waterproof field: Polyurea Roof Coating, basement waterproofing, kitchen and bathroom waterproofing, exterior wall waterproofing, bridge tunnel, subway waterproofing, water dam waterproofing, sewage treatment tank, Polyurea Concrete Coating.
2. Floor area: water park, Polyurea Swimming Pool Coatings, sports stands, elastic floor...
3. Anti-corrosion field: Chemical storage tanks, oil and gas pipelines, oil production platforms...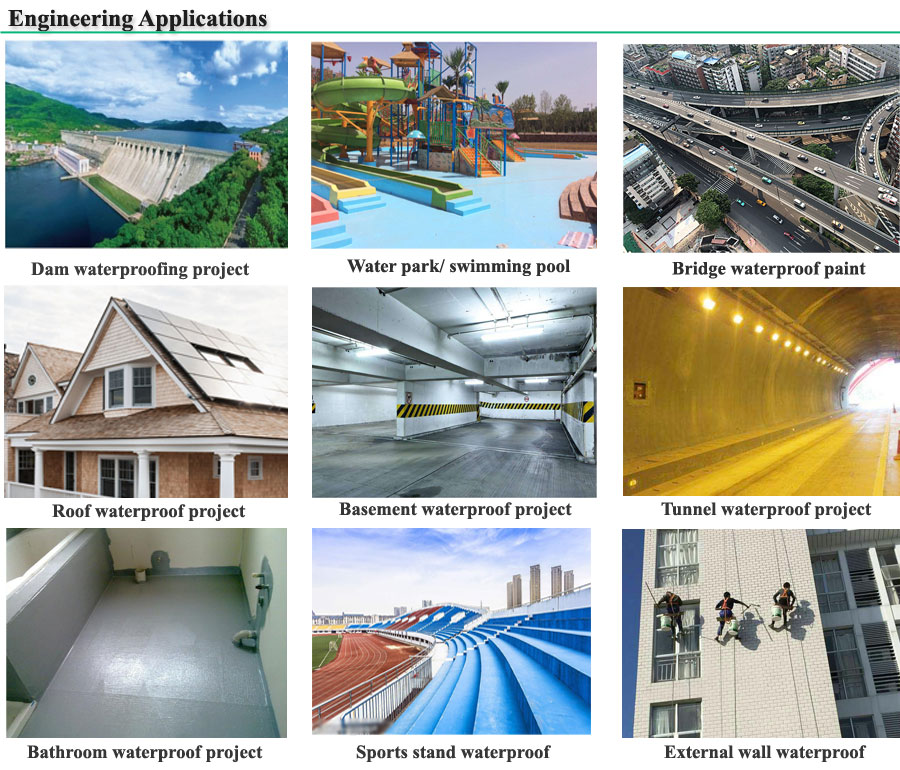 Precautions:
1. It is not suitable for construction in rainy weather, and there is water in the basement that cannot be constructed.
2. The finished paint should be used up within 40 minutes.
3. The liquid components that have not been used after opening shall be sealed and stored and used as soon as possible.
Best selling Polyurea Waterproofing Coating model T100 technical indicators
Item

Requirement




Item

Requirement




Adhesion




≥ 4.0MPa(or substrate broken)




Density(film)




1.1g/cm

3




Tensible Strength




10-20MPa




Solid Content(%)




95-100%




Elongation at Break




300-500%




Construction Period(25℃)




30-60min




Tear Strength




≥70kN/m




Dry Film Thickness




600-2000µm




Hardness(Shore A)




≥80




Theoretical Coverage




1.0kg/m

2

(when dry film is 900µm)




Low Temperature Bendin




-40℃




Surface Drying




1h




Wear Resistance(750g/500r)




≤0.03g




Actual Drying




24h








Re-coat

Time




12-48h